Shikiriza newspaper is a Burundian newspaper based in Burundi, precisely in Bujumbura mayorship. It was created by a group of young students and young journalists to address the challenge of representation of young talents, start-ups, poor citizens' groups and minorities in the Burundian and international media. This largely online newspaper focuses on the socio-economic situation and places special emphasis in its activities on children, youth, women and other groups of underrepresented people including indigenous people and people living with disabilities or chronic diseases.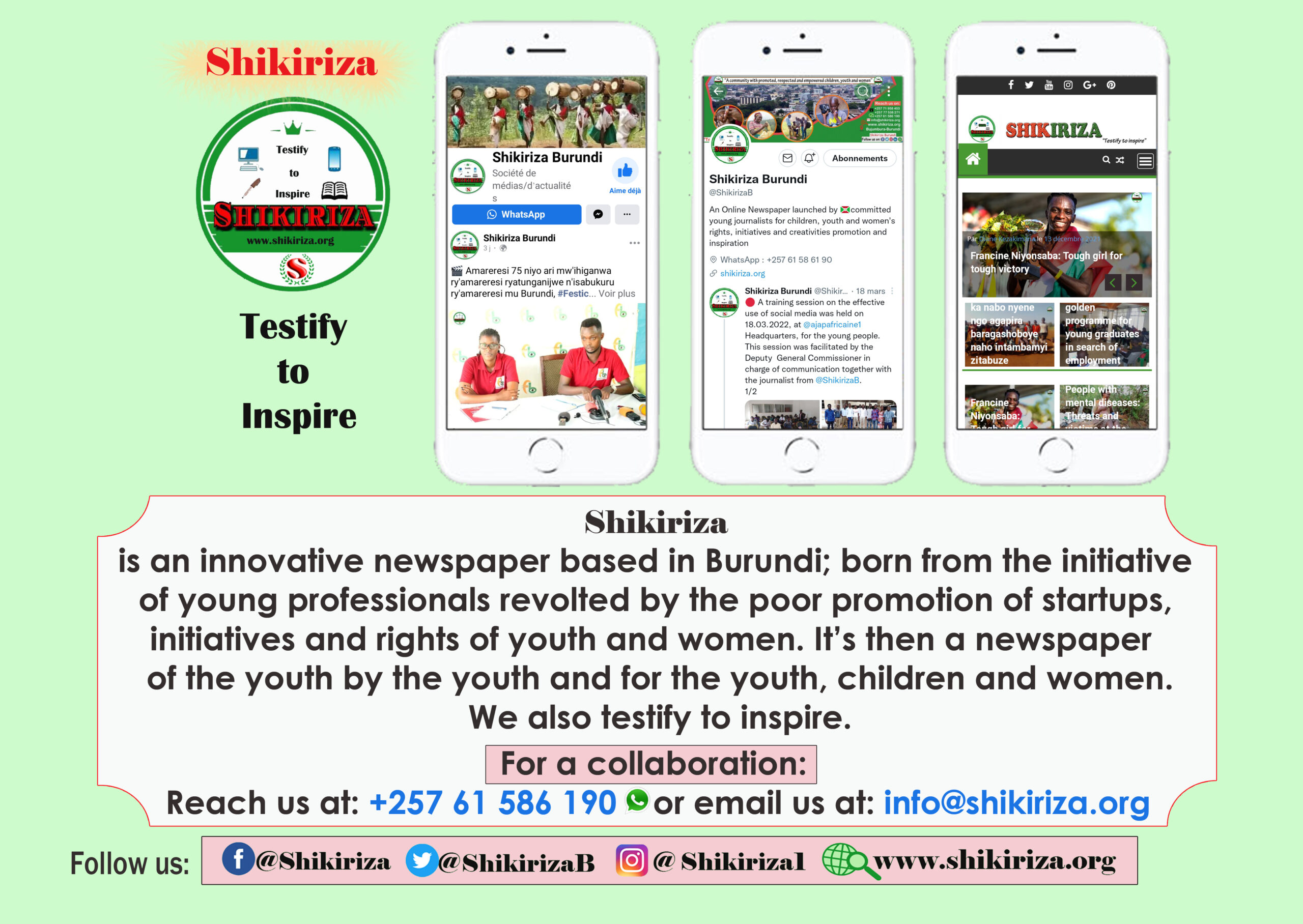 Launched in January 2021 by young journalists outraged by the place given to youth, children and women as well as their entrepreneurial initiatives, Shikiriza Newspaper was approved by the National Communication Council, CNC, on February 28, 2022, after a year of work as a blog bringing together these blogging journalists around various themes inspiring start-ups and promoting the various initiatives especially of youth and women.
Our media organization, although still young, is a well-organized structure. It has a functional accounting system headed by an honest and experienced accountant with a human resources officer. Finances are managed with care. In terms of organisation, too, Shikiriza Newspaper has a competent Editor-in-Chief and a publisher of our articles. As our newspaper uses various languages, there is also a head of department for each language, including Kiswahili, to promote this important language in the EAC but less used by the Burundian media.
The Shikiriza newspaper has among its missions the promotion of entrepreneurial initiatives and the rights of these target groups mentioned above.
Its vision is to transform the community into one with promoted, respected and empowered children, youth and women.
Being a framework for expression, visibility, learning and exchange; Shikiriza newspaper aims to be a pioneer among other Burundian newspapers operating online through its various creative and innovative services, and through the information it collects, processes and disseminates with professionalism.
To achieve this, this newspaper of the youth by the youth and, particularly, for the youth, children and women, has recently redefined its ways and means to succeed in its missions and achieve its vision and objectives.
Thus, it has launched initiatives to counter the spread of misinformation and propaganda, the online sharing of fraudulent and hate speech, the misuse of social media through the introduction and promotion of media literacy, etc.
This newspaper has also placed special emphasis on reporting, processing and disseminating news that has taken place in very remote rural areas to diversify its sources and balance its news as well as to decentralise its various services.
You can also find Shikiriza newspaper on Facebook, Twitter, LinkedIn, Instagram, and very soon on YouTube and sound cloud.